Light industrial Building Services
Building & Construction for Industry
Offering a complete range of building and development services to the construction industry across the UK, we have long served experience in all main sectors.


Light Industrial services include:
Light INDUSTRIAL BUILDING & construction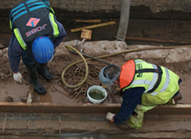 Industrial Project Experience
Our light industrial experience typically involves the development of new buildings or redevelopment/ conversion and repair of existing industrial buildings together with all associated works such as drainage systems and other groundwork, hard landscaping, retaining walls, etc.
quality assurance
All of our work is carried out to the highest standards.
P&D Construction offers a highly efficient industrial building and refurbishment service, capable of carrying out a variety of projects in both the public and private sector. We strive to achieve cost effective industrial solutions providing all necessary skills, experience, plant and materials at our disposal. Being acutely aware of on site health and safety/PPE requirements in today's modern construction industry, site safety is of paramount importance. We always carry up to date site permits/passports on site and carry out daily safety checks and test certification where required.
Telephone us today on 01352 731597 for an informal chat or to arrange for a free quotation.